An email drip campaign or "Journeys" as we call it in EO, is a series of automated emails sent in a predefined order with the goal of transferring information and inspiring the recipient to take a specific action. Drip campaigns are often used in sales outreach, and all the emails in the campaign are created in advance.

By sending a series of carefully planned emails over time, drip campaigns can be an effective way to move potential customers through the sales funnel. For example, someone who signs up for your email list may receive the first Email immediately, the second Email two days later, the third Email five days later, and so on. The final Email in the drip campaign usually includes a call-to-action (CTA) asking the recipient to request a demo or take some other action to purchase.
Things to consider in creating an effective email drip campaign.
Identify your goal

Your goal is the fuel that powers your campaigns. Without a clear idea of what you want to accomplish, it'll be hard for any campaign or email series to succeed because there isn't anything specific and tangible at hand with which we can align our tasks accordingly; but when goals are established beforehand—whether big ones like "increase revenue" or small yet equally important details such as making sure every new lead has their name included in one list already—then nothing else matters more than getting them done! Make certain you always understand how well-established these objectives should be.


Understand your target audience

Always deliver the right content to ensure your email campaign is successful and builds strong relationships with customers. You might have an email list of who attended your tech show. You will decide the right content for these people to take action.


Decide the number of touches for your drip campaign

Keeping your email marketing fresh and exciting is important for maintaining customer loyalty. Since over 60% of customers prefer reading emails from the brand at least once every week, it's vital to have a clear idea about how many you want in each campaign so that there isn't too much or not enough space between them when they're all sent out! If creating an 11-email drip with two days' separation seems too much work, try subbing instead; this will give users more opportunities throughout their month without feeling bombarded by info overload on day 1.


Monitor your campaign

Monitoring your email campaign is essential to running a successful one. If you regularly check up on it, any challenges can easily be identified and optimized so that success continues throughout the entire process—not just after launch!
How to Create a Simple Email Drip Campaign
1. Click on "Journeys" on your menu bar.




2. Once you are on the Journey Manager window, click on the "New Journey" blue button to create your drip campaign.




3. You are now ready to set up a new Journey.


On this screen, input the name of your Journey and choose a category. Setting the start date is optional.

Next, you can define your Journey. You can select from the below entry points.

Membership – Journey begins from a list or by manually adding members.
General Engagement – Journey begins from an open or click on a previous engagement.
Specific Engagement – Journey begins clicking specific URL in any previous campaign.
For the purpose of this tutorial, let us start with Membership (80% of our clients starts here).

Then, click the "Next" blue button to continue with the next process.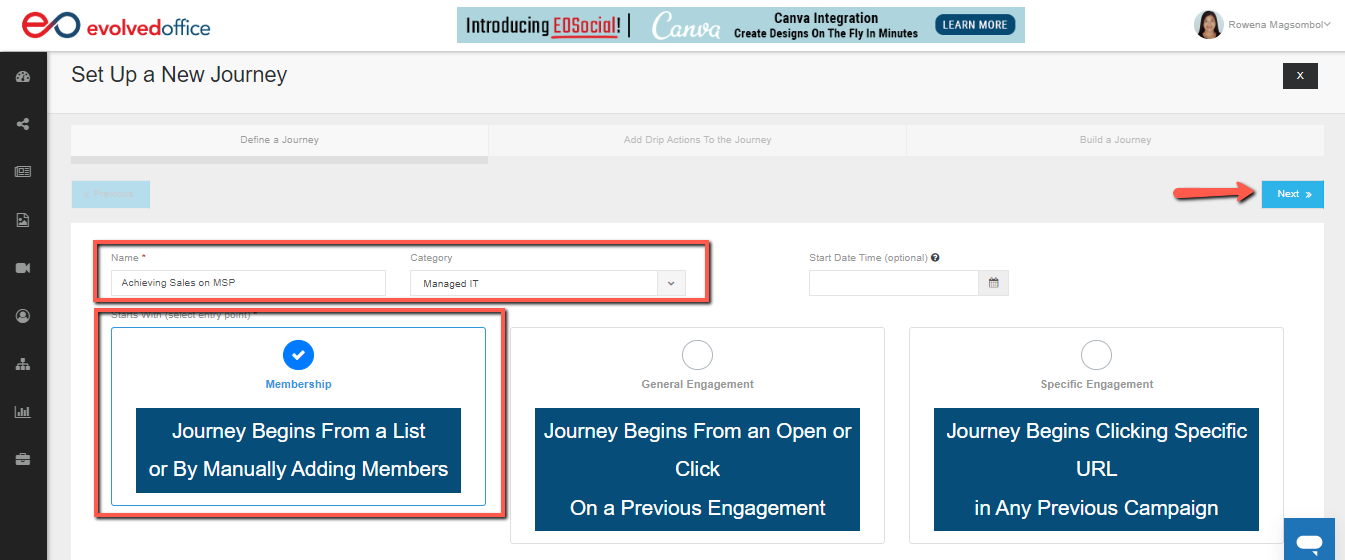 4. On the next screen, you can set the membership list for your Journey by turning the toggle switch to the right for whatever list you are going to use. For this example, we are going to use the "Cybersecurity – Prospects" list.

And then click the "Next" blue button to get you to the next process.

Note: You can add one or more lists.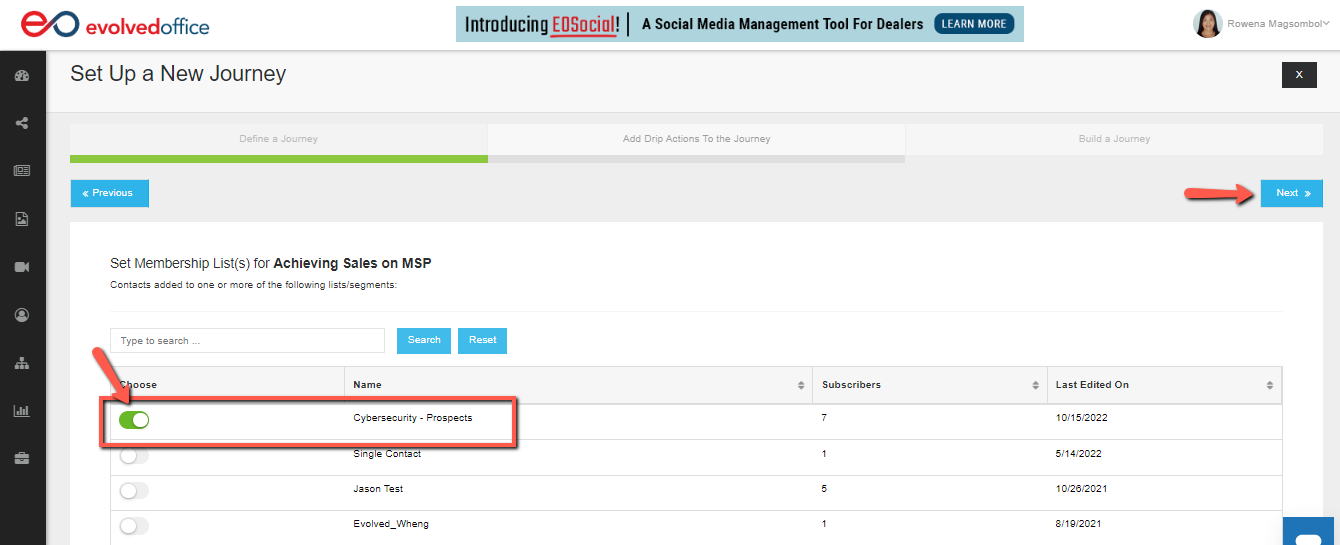 5. On the next screen, you'll see the beginning or the entry point of the Journey, which is the email list/s that we selected.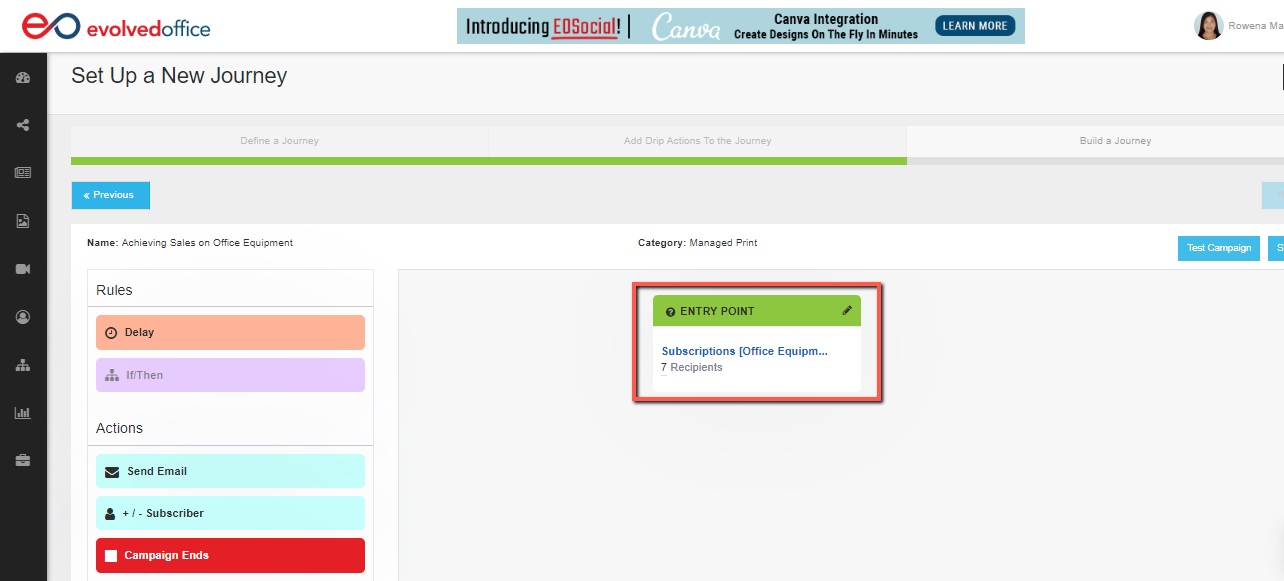 6. Now, you can start adding Drip Actions and Rules to the Journey.

7. We can add "Send Email" from the "Actions" by simply dragging and dropping.

Next is to click edit in the email, so you will be prompted to the "Email Template Chooser."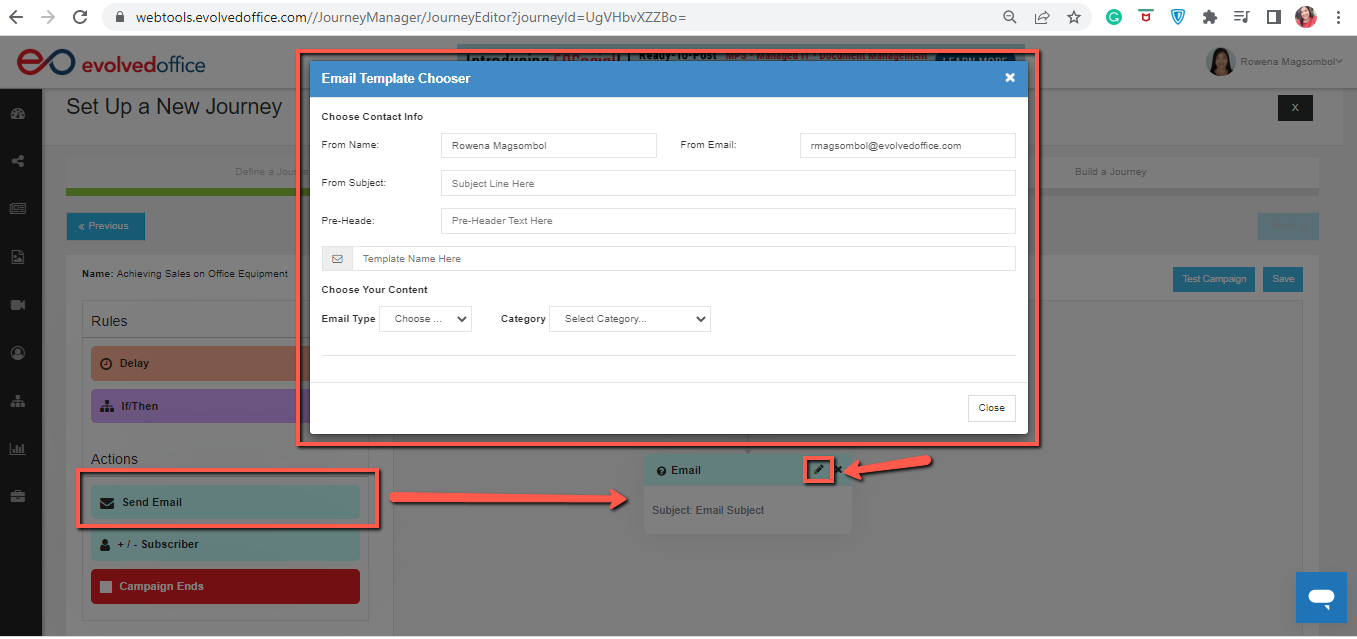 8. On the Email Template Chooser, you can…

a. Choose contact information, and enter the subject line and pre-header text.
b. Input the template name.
c. Choose the Email Type and Category.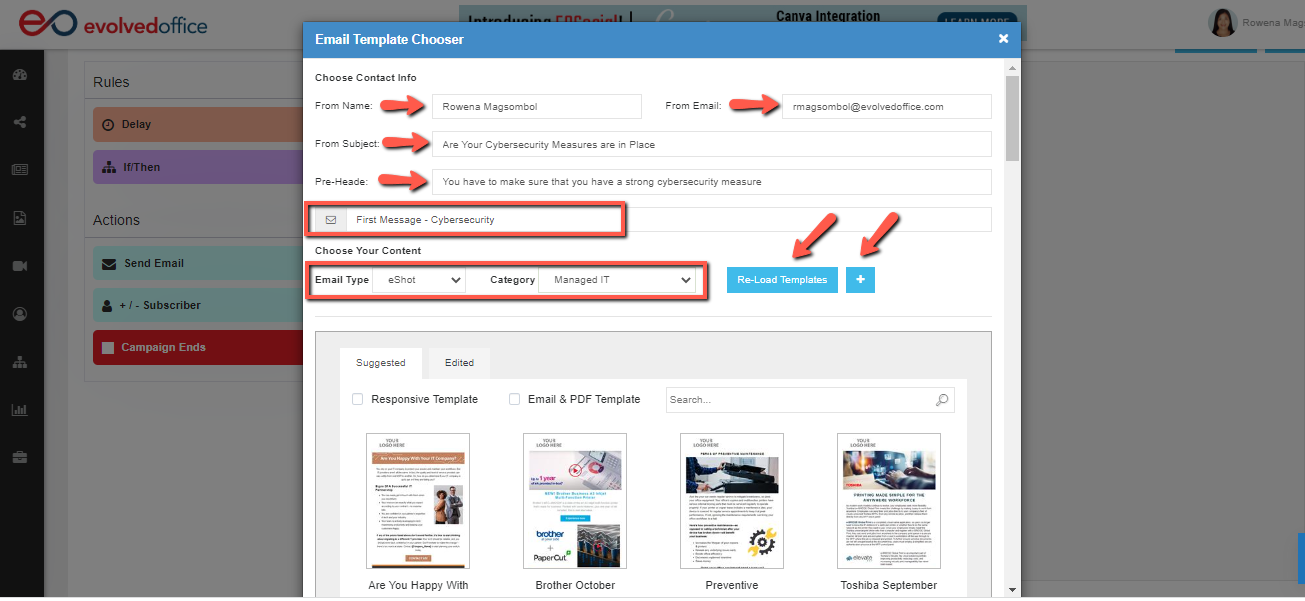 9. Once you decided what eSHOT you are going to use, you can simply click on the "Save" blue button, and it will automatically link to your email.

10. Next is to add a Rule. In this instance, let us add the "If/Then" condition after the first message by simply dragging and dropping.

Next is to click edit in the "If/Then" condition, so you will be prompted to the "Set Logic" pop-up window.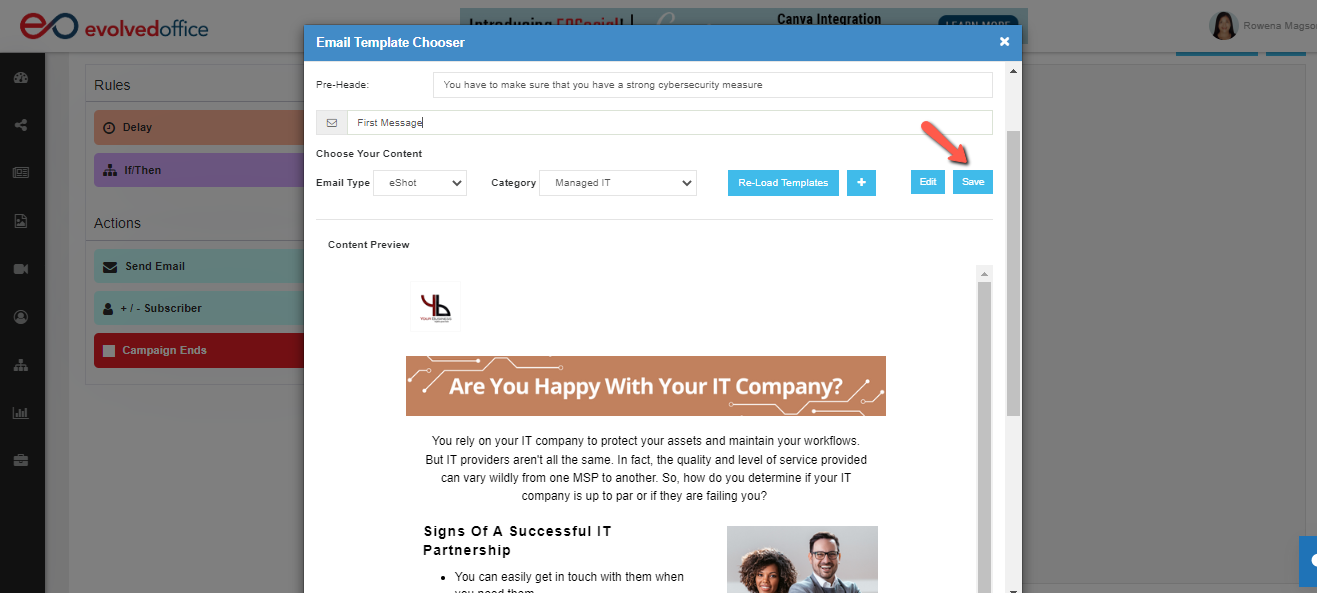 11. Now you are ready to set the logic of the rule.

You can set intervals to wait for engagement before directing contact to the NO path.

And then, choose the action and select the email that will trigger the next journey, and click "Save".




12. Now, you should add two (2) separate emails for those who will take action based on the trigger. These 2 emails are tagged as "Response" and "No Response".

In this example, if the trigger is who Opened the Email, the one who opened the first email will receive another email (for you to define which will be your next email). The same as for recipients who did not open the email, they will get a separate email.

Note: You can create as many loops as you can depending on your goal.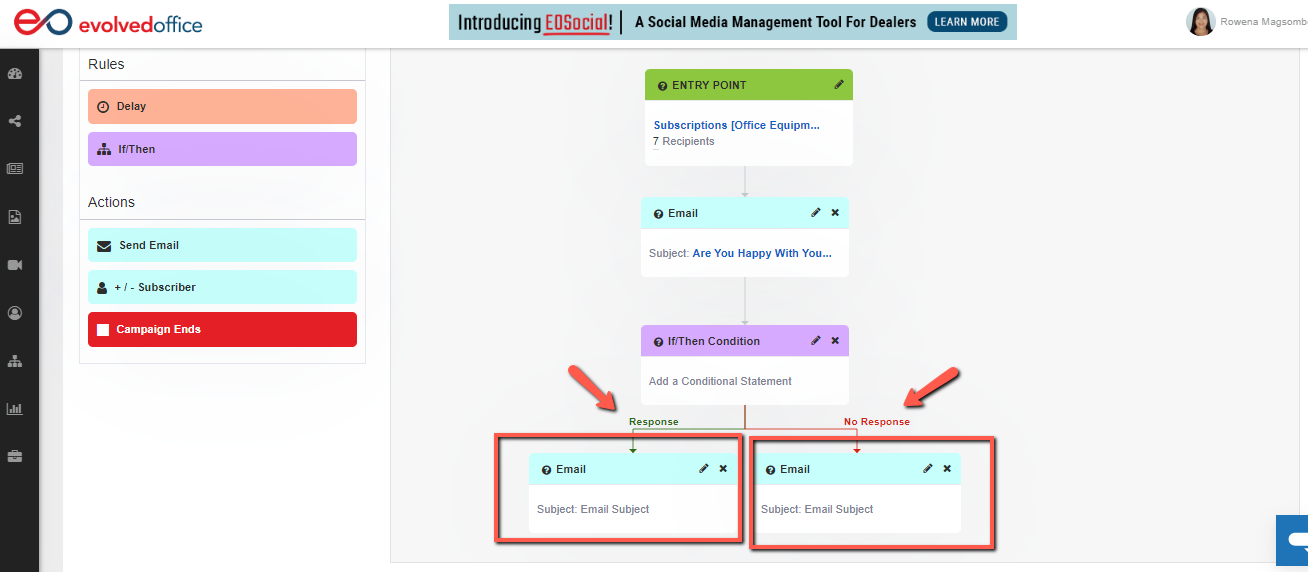 13. Lastly, you should end your campaign and set the interest level.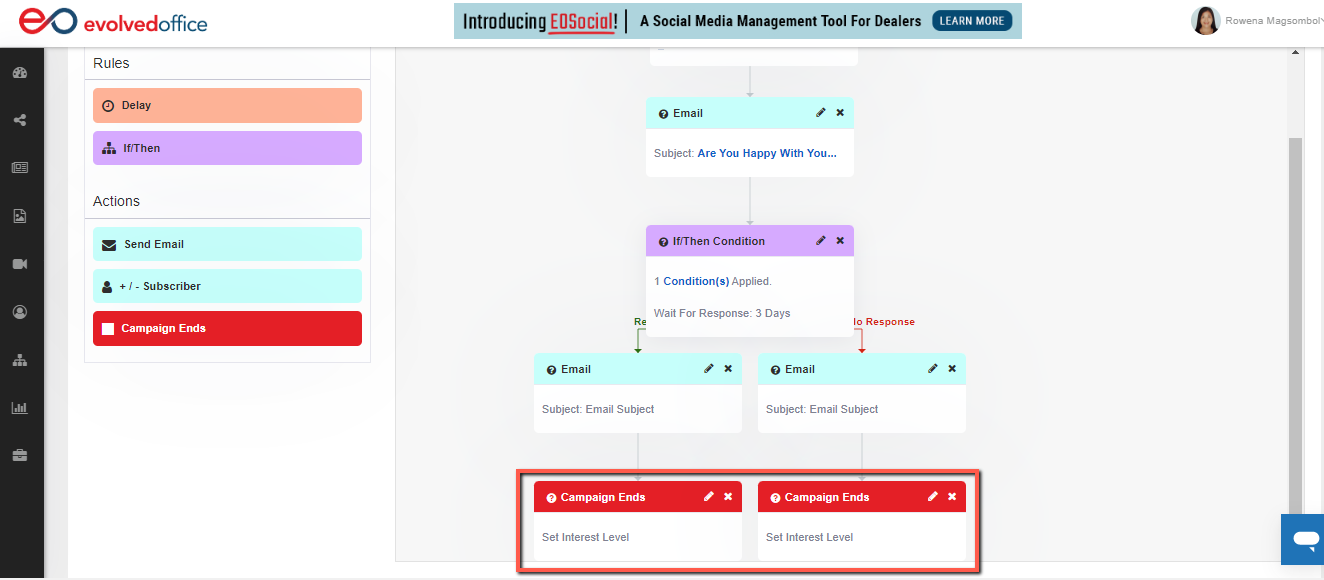 You can also watch this video tutorial.