Shareable video is another feature available on the EO platform. It is a video messaging tool that helps you get your message across through instantly shareable videos. You can record your camera, microphone, and desktop all at the same time.

Your video is instantly available to send as a one-off invite, broadcast, download, post to social platforms, and share the video link.
Let's get inside the platform!
Select "Videos" from the menu bar on the left side after logging in to your account.



Inside the "Videos" window, there are 2 tabs.

Suggested Videos – A collection of readily available videos created by EO for your marketing blasts.
My Recordings – This is where you can create your shareable videos.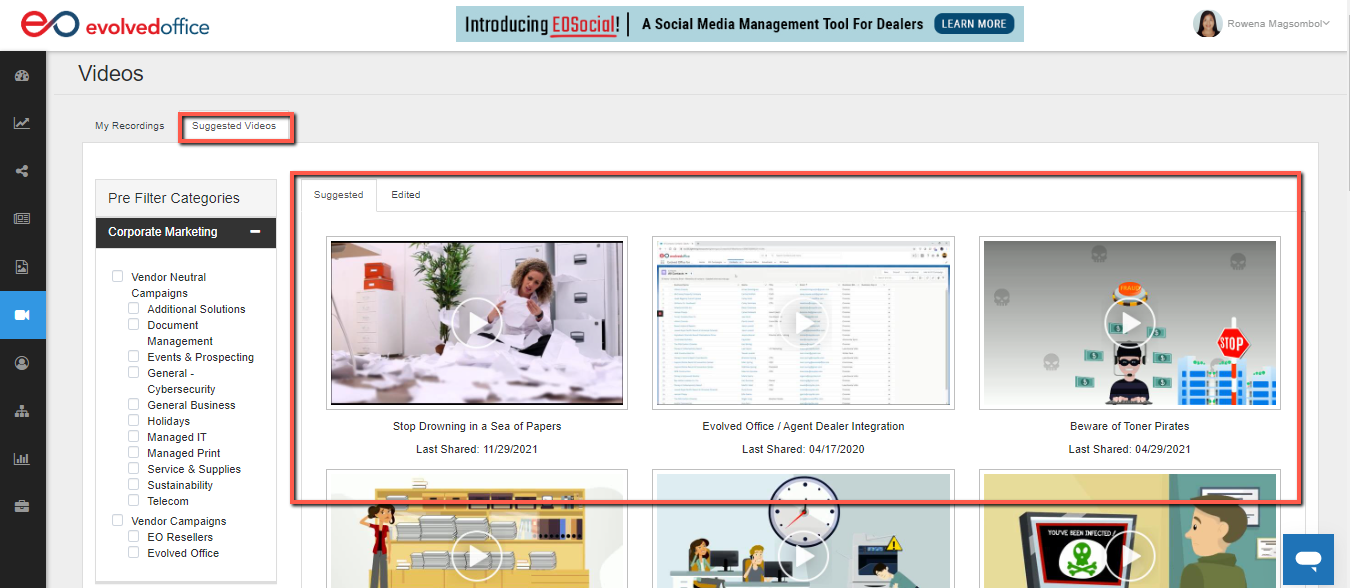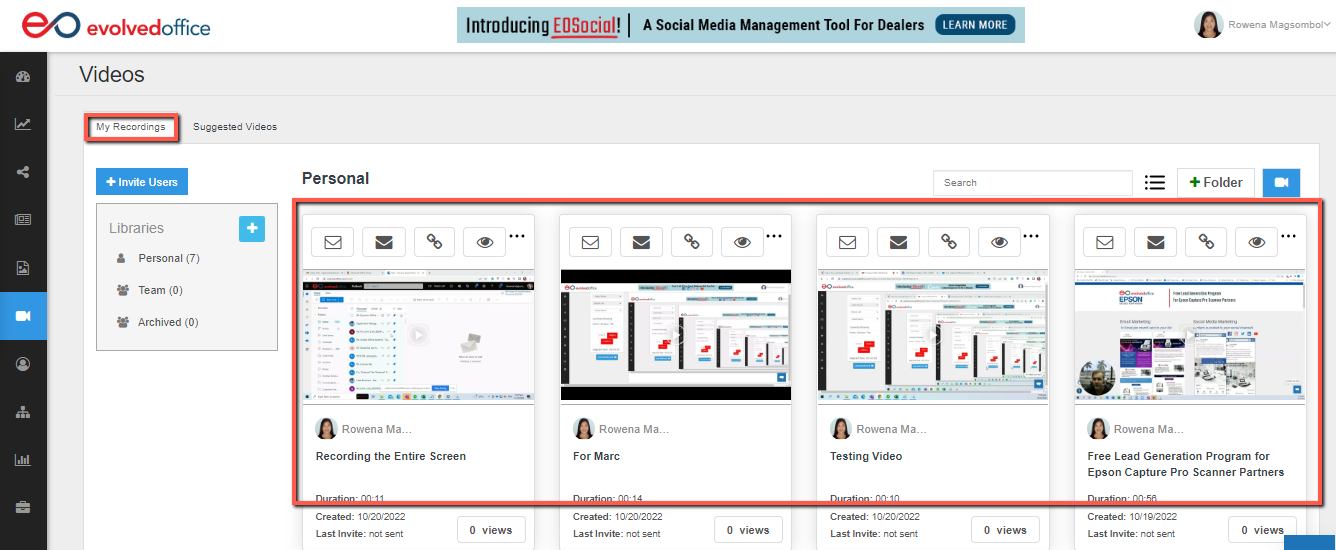 Let us dig into "My Recordings!"
By clicking on the "Invite Users" blue button, you can invite users to your "My Recordings." The purpose is to add other users to the account, give them creation access, and send an email inviting them to log in and start creating videos.



The "Libraries" is where you save your videos. There are 3 default libraries available (Personal, Team, and Archived), but you can always add libraries to your liking, by clicking the "+" blue button, enter the library name and hit "Submit."



You can also create a folder under each library by clicking on the "Folder" button, entering the folder name, and hitting "Submit."




Let us start recording!
Click on the video icon to start recording.



On the next screen, you can select layout from the drop-down (screen only, screen and camera, or camera only). And then, click on the "Start" button to start the recording.



Now, you have to choose the content of your screen that you want to share (entire screen, window, chrome tab) and hit "Share."



When you are done with the recording, hit "Finish."



You can add a title and description of the video underneath the video and click "Save."



You are now ready to share your video via email. You have 2 options below:

Send One-Off – Share the video instantly with one or more email contacts.
Mass Broadcast – It will take you to the "Editor" and broadcast the video to your email list/s.


How to Instantly Share a Video to One or More Email Contacts (Send One-Off)
First, click on the white envelope icon.



In the "Send Video Invite" pop-up window, enter the FROM Name and FROM Email if you will use a different sender; otherwise, use the predefined FROM Name and Email address.

Next, enter the Subject

After that, search for specific contact/s to send a one-off invite and click the "Send One-Off Invite" button. The video will then be shared with the recipient/s.

How to Share a Video in Mass Broadcast
First, click on the black envelope icon.



Then, it will lead you to the Editor to send a broadcast to your email list/s.

Please refer to this article for guidance on how to schedule a broadcast.


Other Features
You can copy the landing page link and share it with your clients and on social media platforms.



You can download the video and share it with your clients and on social media platforms.



You can bookmark the EO Platform and access it anytime without the need to log in to your account.

To do this, click on "Copy Bookmark" and then click on the 3 dots on the upper right side of the browser. Select "Bookmarks" and then "Bookmark this tab."




You can also watch this video tutorial.